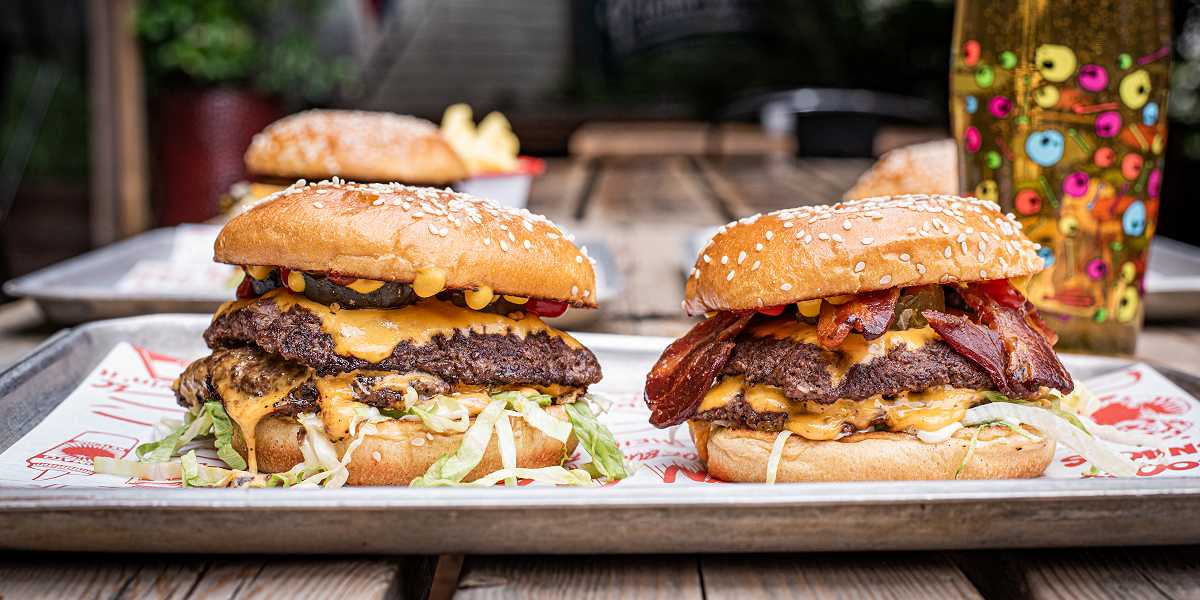 OPERATING TIMES
THURS & 4-9pm
FRI 4-9pm
SAT 12-3pm / 5-9pm
TAKEOUTS
AVAILABLE VIA OUR APP... book a takeout for collection via the app during our opening times. Slots get sold out at the weekends but you pre-order in advance to guarantee your BLC fix. Link below >>>
TABLE BOOKINGS
You can book covered tables to dine inside or outside with us via our app, use the link below to download. Please note we are serving pizzas THURS to SUNDAY, our BUN LOVIN CRIMINALS burger menu is currently available in-house & for takeouts THURS to SATURDAY.
THE BUNS IN BLC
BLC was born for the buns, the burgers, that's why we're here to offer you the best burgers for your beer and your bucks in our glorious Victorian boozer. You're spoilt for choice with our mega selection of lip-smacking burgers, from the VIC MAC, VEG MAC, HUNTER, MCLOVIN, MeatFREE, BACON TRIPLE, BBO or the humble CHEESEBURGER, each one pleasantly packed and guaranteed to satisfy. And we won't be offended if you want to pimp it, add another patty, more cheese, a hash brown even ... stop it!
DON'T FORGET THE SIDES...
They've become pretty legendary. SCOOBY SNACKS are crispy halloumi nuggets served with a dunkable sweet chilli sauce, DIRTY SRIRACHA FRIES or SQUID if you're feeling sexy and want some extra heat, they look pretty darn pretty too. Our chicken breast GOUJONS are soaked in buttermilk for extra tenderness, as our WINGS before the buffalo drenching commences and our fries come plain, dirty, spicy or nostalgic, remember the southern fired curly fries from your school dinners, yep, those!
SIMPLICITY IS KEY ...
Our meat comes in fresh from our local butcher, R&E butchers, our beef pattie's are hand smashed, seasoned and grilled to order by our skilled Chefs. Our chicken is free range and soaked in buttermilk for extra tenderness. Our menu is fun, fresh, tasty, family, friend and date night friendly.
FRIENDS / FAMILIES / VEGANS / COELIACS
Our menu is catered for all of the above, look for the (agf) on our menu, that means it's available gluten free, just request it on ordering. The same goes for (ave) available vegan. We offer kids meals, veggie, vegan & gluten free options but if you have a serious allergy or a query then please do get in touch before joining us, we'd be pleased to talk you through our menu.

We offer seasonal specials, local business collabs, vegan, gluten free and kids meals
BLC - What, when, how?
Remember Street Food Fridays?? They were a brilliant introduction to our business a few years ago, inviting a different trader into our pub courtyard every Friday presented a welcomed diversity to our food offer and was a great way to support fellow traders. Always heavily inspired by the St Food movement and keen to get involved, Tom created 'Bun Lovin' Criminals', a fun burger brand with simplicity and quality at the heart of the menu, influenced by pop culture references and a play on the infamous band the Fun Lovin Criminals.
During the first lockdown we were aware that our seven day week menus weren't sustainable, if we were to reopen we had to streamline our offer and BLC was not only a tried and tested product, it was casual dining at its best, we've never looked back!

BLC TO THE RESCUE
Without BLC I don't think we'd be here today quite honestly, during the second and third lockdowns we were able to offer this as a weekend takeaway service, selling out every week quite simply saved our bacon, kept us afloat so we live to fight another day. Our DIY kits also became a fun & popular addition to the menu even delivering to as far as Kent for a family zoom celebration.
>>> NEW BUN LOVIN' DIY KITS <<<
*PLEASE NOTE THAT THESE AREN'T CURRENTLY AVAILABLE WHILST WE FOCUS ON REOPENING & LAUNCHING DIRTY DOUGH PIZZA CO*
If you wish to place an order please email us directly to see if it's possible >> info@thevictoriahitchin.com or use the CONTACT button below
Introducing our NEW BACON DOUBLE CHEESEBURGER DIY KIT for your bun munchin pleasure.
You receive all the ingredients, carefully packaged with an instruction sheet to create your own bacon double cheeseburgers at home. It's fun, it's well sourced, it will teach you how to cook banging burgers & it will support your local pub :)

Cosy kit for 2 @ £15
Mega box for 4 @ £25

*also available gluten free, please request how many gluten free buns are needed upon ordering*

KIT INCLUDES:

4 OR 8 Beef patties
2 OR 4 x brioche buns
house bacon dust
American burger cheese
cooked onions
house pickles
Heniz ketchup
French's mustard
+ a detailed info sheet
++ FREE spicy spud dust to pimp your potato wedges
We have a limited amount of these kits available, pre-order via our new app up to 24hrs in advance for collection on Fridays & Saturdays from 3pm.

We recommend using on the day of collection but all of the chilled ingredients will keep for two days if refrigerated

CONTACT US NOW